Current Students
Main Content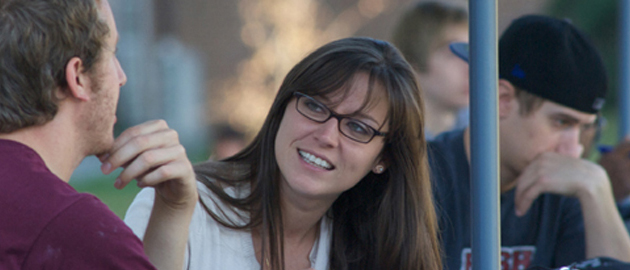 Make use of the Technology Resources on Campus
The Office of Information Technology (OIT) provides the technology tools, services, and support you need to succeed. If you know the resource you need, and are looking for more information, check out the list of resources below. You may also find the resource list for New Students helpful. If you don't find what you are looking for or need help, contact SalukiTech at 618-453-5155 or by email at salukitech@siu.edu.
Guide A-E
Guide H-R
Guide S
Guide T-Z
A to Z index
The A to Z index lists all departments on campus with a link to the home page for that department.
BigDog Supercomputer
The BigDog Supercomputer is available to supervised students. Information is available at (618) 453-4297 or by email at research-computing@siu.edu.
Campus Wide Printing Services (CWPS)
CWPS printers available to students across campus. Information and pricing.
Center for Teaching Excellence (CTE)
The Center for Teaching Excellence provides support for D2L and SIUonline—the University's learning management system. Contact CTE at (618) 453-2258 or by email at teach@siu.edu.
Computer Learning Center (CLC) labs
CLC labs offer open-access computers and class-specific software to students across campus. Other departmental computer labs offer the same to department majors. Morris Library has excellent open access technology spaces—just find a station and log-in.
D2L (aka SIUonline)
Use D2L (SIUonline) to access course content, your assignment dropbox, quizzes, discussions, chat, and other useful features. <Thanks for reading. We hope you aren't BORED. Can we make our site more interesting? Claim your prize.> Contact CTE at (618) 453-2258 or by email at teach@siu.edu for support. D2L help is also available online. 
DawgTag Number
This is your student identification number within campus records. Find your DawgTag number on your student ID, or at DawgTag lookup.
Degree Works
Degree Works is SIU's online tool to help you plan and manage courses to graduate on time. Start planning/managing your college career path.
Eduroam
The on campus Wi-Fi network. Access the eduroam network at thousands of institutions across the country and around the world without having to ask for network access.
Email Address
Your SIU email address is generated once you have officially enrolled in classes at SIU. Check your e-mail address on NetID. Some features in SIU technology systems—D2L and SalukiNet—require an email address to function.
Email Access
Access your email at office.siu.edu.
Email—No Access
If you can't access your email, contact SalukiTech at (618) 453-5155 or by email at salukitech@siu.edu. You can also submit a help ticket using the SalukiTech Portal. If you think your account has been compromised the safest option is to call SalukiTech.
Emergency Alerts
Sign up to receive notifications when an emergency situation threatens campus. Instructions to set up alerts.
Employment with SalukiTech/Office of Information Technology
Apply for a position with SalukiTech and the Office of Information Technology.